Classic Leather Restoration and Book Binding
Leather Restoration
Finebinding.com specializes in leather restoration for leather books, leather boxes, leather portfolios, leather wallets and other leather enhanced articles. All work is done in house at our shop on 42 West 38th Street. We use the finest leathers from around the world.
All leather colors are available. In addition we restore endpapers, mend printed pages and replace bookmarks and ribbons. We can restore your book to its original form or create facsimile covers which have the look and feel of the original. We work in bonded leather, genuine calfskin leather, kidskin leather and goatskin leather.
When book pages are coming apart, our skilled and expert binders hand sew them back together again, and where necessary, mend any torn pages.
Classic Leather Binding
We create leather books in any classic style whether it is in the 16th , 17th , 18th or 19th century mode. Classic Leather bindings in many instances employ raised bands, or hubs to give them a distinctive old world appearance. In addition to the raised bands, any type of classic design can be foiled stamped in gold, silver, or just about any color.
Classic leather binding can be done in full skin leather, half skin (leather on spine with marble paper on boards, or 3 quarter leather ( leather on spine, marble paper boards and leather on the four corners. Special designs and logos can be custom made to give the leather books that extra special enhancement.
Some of our clients include Tiffany's, Goldman Sachs, Madison Square Garden, Gallo Vinyards, duJour Magazine, Sony Music, Bergdorf Goodman, Einstein School of Medicine, Brooklyn College, Yale University, M. Shanken & Co. The New York Times, and many more.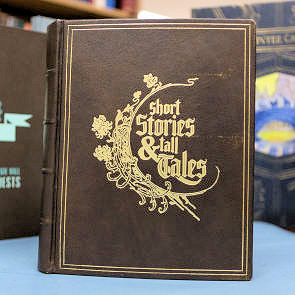 Classic Leather Binding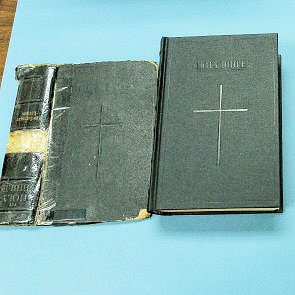 Leather Restoration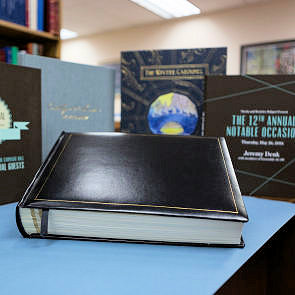 High Quality Leather Binding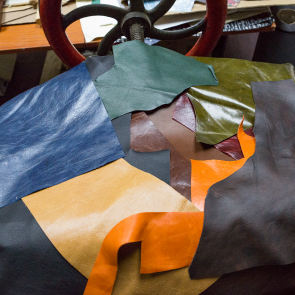 All Leathers and Materials
Cloth and Linen Binding
With the growing interest in family and personal histories a growing number of people are gathering information about their ancestors. With the help of the internet, surprising results are appearing. To make a lasting record of this information our clients are bringing to us their findings in having them printed and bound in leather, bonded leather books, cloth books and linen books. Often family photos or family crests are foil stamped or silk screened onto the covers.
When cloth or linen covered books are needed, Finebinding.com can bind your books in any color. We bind in cloth and linen old books, old and new manuscripts, Movie and Theater Scripts, Bibles, Portfolios, Corporate documents, Law Cases and Transcripts, Medical Articles and Medical Journals. For Undergraduate Students and Graduate Students, we bind Theses, Term papers, and Art Projects. There is no quantity large or small that can't be accomplished.
Bonded Leather Books
Bonded leather is a composite leather made from leather fiber. It has the look of leather, but not necessarily the feel of genuine leather. It is most often used in bible coverings, corporate presentations, and board meetings. While not as strong and long lasting as genuine leather, it does well for foil stamping in gold, silver and other colors is often as good as hot foil stamping for genuine leather. It is often used for short term use where perception is the key factor and more economical costs need to be factored.
Classic Leather Restoration and Book Binding Services
For exceptional quality, quick turnaround and affordable pricing, call NYC's professional bookbinders at 212-252-0129 or email us and put our 20 years of experience to work on your project.