About the Bookbinders at FineBinding.com
For the past two decades the binders, printers, graphic artists, writers and editors of Finebinding.com have offered the highest quality in Publishing Services for individuals, corporations and institutions. Our binders from Antiqua, France and America are skilled in every phase of book binding. From Report and Thesis Binding to Classic French, English and Japanese bookbinding, every project involves close collaboration with our clients and the kind of attention to detail found nowhere else. In addition our restoration work is of the highest order. There is hardly a torn and tattered treasure that cannot be mended or restored.
Made In America
All work is done exclusively at our shop on 38th Street.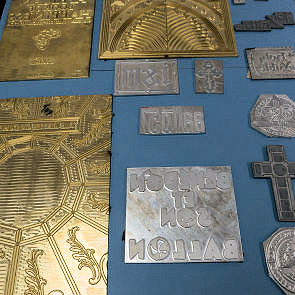 Foil Stamping and Silk Screening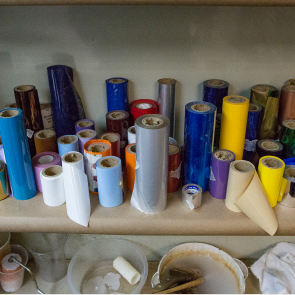 Finest Materials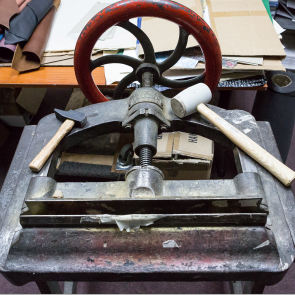 High Quality Craftsmanship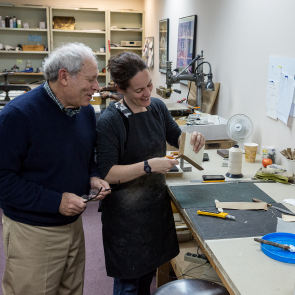 Knowledgeable and Friendly Staff
Graphics and Editing Services
Our graphic artist in conjunction with our editor combines text and graphics which accomplishes for the client and management team a powerful presentation to bring to sales and board meetings.
Finest Materials
We use the finest papers for printing, as well as the best cloth, faux and genuine leather for binding. Our genuine leather is imported from all over the world and comes in over 50 shades and colors.
Foil Stamping and Silk Screening
In addition, any design, whether it is a corporate logo, family crest or ornate rendering can be foil stamped or silk screened on the cover of books.
Contacting FineBinding.com
Finebinding.com welcomes all perspective clients to contact us with your projects by email at jl@finebinding.com, Skype, or in person. Appointments to visit our shop and showroom, or to discuss your project in person can be made Monday through Friday 9 AM - 5 PM.
For exceptional quality, quick turnaround and affordable pricing, call NYC's professional bookbinders at 212-252-0129 or email us and put our 20 years of experience to work on your project.